Bruno Maisonnier at VivaTech 2023!
Watch Bruno Maisonnier, founder of AnotherBrain, discuss his ideas at VivaTech 2023.
Image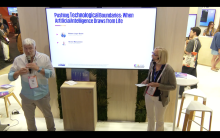 "There are huge challenges that humanity is not ready to solve. With limitless Artificial Intelligence, we could!"
Our founder Bruno Mainsonnier spoke at the VivaTech trade show during a keynote on the theme of "Pushing back technological boundaries: when Artificial Intelligence draws inspiration from the living", moderated by KPMG France's Head of Innovation, Albane Liger-Belair.
Watch the replay now to understand the various challenges involved in creating organic AI.